How Many Words for Rain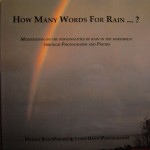 Poetry and photographs explore rain's moods, colors, textures within 80 pages.. Although focused on the northwest (and we in the northwest do know rain), this is the perfect gift book for anyone who has too much, too little, a love for, or a hate for rain. This is rain that whispers, rains that shouts, rain that leaves behind memories.
Lynne Hann is an extraordinary photographer (http://www.hannphoto.com/Hann_Photo/HOME.html) who, for 20 years, has explored moods and memories within photography. Many of her pictures have been included in northwest juried shows and are part of private collections. She has had several gallery shows and her work has appeared in magazines, calendars, books, brochures, marketing pieces, greeting cards, screen savers and postcards.
Marian Blue has been publishing since 1972 when she went to work for the southwestern weekly newspaper San Miguel Basin Forum (https://www.facebook.com/SanMiguelBasinForum) still in operation today. Her writing has appeared in books, magazines, and newspaper in the U.S. and abroad. In addition, she has been an editor for books and magazines, including being the founding editor of Soundings Review (www.nila.edu). She has taught creative writing, literature, English, and communication in various locations and for Skagit Valley Community College (http://www.skagit.edu/) since 1994. She is a founding partner of Blue & Ude Writers' Services (www.blueudewritersservices.com), which has helped authors publish since 1993.